Read more about the anniversary interview with Dr. Claus-M. Müller and the two Managing Directors Nicolaus M. Müller and Dr. Ekkehard zur Mühlen.
Big anniversary interview: A passion for construction chemistry
MC-Bauchemie has written a unique success story right from its early beginnings in December 1961. We spoke to Dr. Claus-M. Müller, who – having led MC for 50 years – moved from executive management to chairmanship of the Advisory Board at the beginning of the year, and the two managing directors Nicolaus M. Müller and Dr. Ekkehard zur Mühlen about the diamond jubilee and the development of MC-Bauchemie from a small German firm with 25 employees to a globally active company with a workforce of over 2,500 people.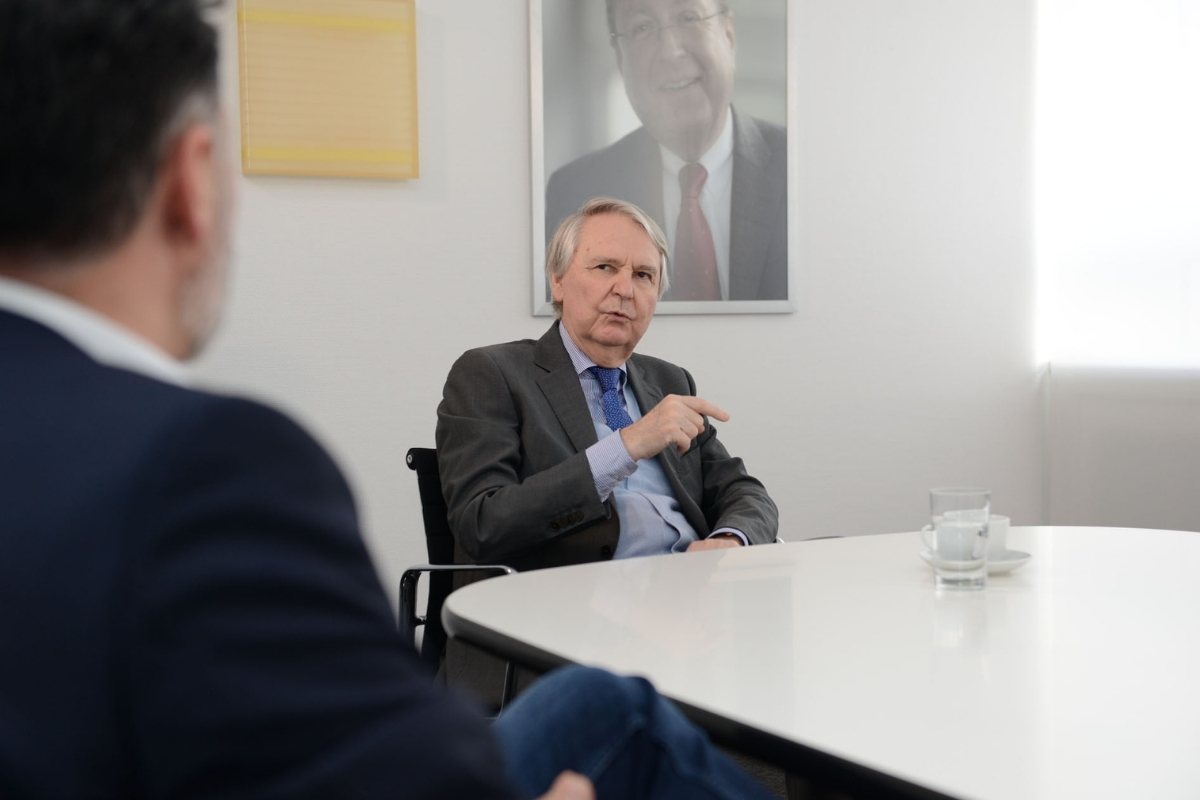 What does MC's 60th anniversary mean to you personally?
Dr. Claus-M. Müller: I am rather puzzled and wonder where the time has gone, but I also feel a little pride in what has been achieved. (smiling)
Nicolaus M. Müller: My father has every reason to be proud. I am very grateful for what he, together with my grandfather and my uncle, has built up over the past decades. At the same time, this is a team effort involving all our people – MC's employees also deserve recognition and appreciation for their immense contribution. They have helped make MC what it is today: a healthy company aligned to the long-term perspective and renowned in the marketplace for its innovative solutions and unmitigated reliability.
Dr. Ekkehard zur Mühlen: And that's what we want to maintain going forward. Such anniversaries always serve as symbolic milestones to remind us where we have actually come from, what we have achieved and where we still want to go. For me, it also means taking stock of the situation and embarking on the road to a new, dynamic and post-pandemic decade in which we intend to pursue ambitious growth targets. As in past decades, it is always good to take a look in the rear-view mirror as we drive on.
What have been the reasons behind this unique success story?
Dr. Ekkehard zur Mühlen: There are many success stories, but also failures. But if you compare MC with other successful companies, you will notice that MC plans and thinks in very long time frames and attaches great importance to finding the right employees – and ideally then just "lets them get on with it".
Nicolaus M. Müller: From my point of view, it has been the combination of continuity and concurrent change: we have always remained true to our core values "Be Sure. Build Sure." and will continue to do so in the future. Nevertheless, we have also consistently and successfully adapted to changing macro conditions at an early stage, and initiating improvements ­– some sweeping – often with exemplary foresight.
Dr. Claus-M. Müller: These are certainly weighty reasons, to which I would add our innovative prowess, our quality awareness and our customer focus, all of which are distinctive MC traits that set us apart from our competitors. However, in addition to the entrepreneurship that is firmly anchored in our corporate culture, just as important were and are qualities such as the perseverance, determination and stamina of our management and staff in the various development phases of our group of companies.
In your view, what were the decisive phases or milestones in the development of MC?
Dr. Claus-M. Müller: Rather than milestones, I would say that we benefited from a series of successes of various magnitudes, interconnected like a string of pearls, so to speak: from the development of new products, some of which have revolutionised the market, to the expansion of our research and development capability and production facilities, coupled with our embrace of geographical expansion and internationalisation.
Nicolaus M. Müller: A very important milestone in the last ten years was the reorganisation of our corporate structure towards decentralisation of responsibilities, combined with the establishment of strong, local management in the respective country organisations.
Dr. Ekkehard zur Mühlen: ... which was implemented from 2014. More than any other measure, it was this that powered MC's ensuing growth. Of course, change in the country organisations also needed to be carefully managed, with the levers for success being placed firmly in the hands of the now new decision-makers.
MC has always been committed to innovation. Which innovations do you regard as exceptional or transformational?
Nicolaus M. Müller: There are a number of examples. One of our latest innovations is KineticBoost Technology®, on the basis of which we have launched a range of unique high-performance coatings that can be safely installed even in challenging weather conditions, such as low temperatures or on damp substrates. Our development of cement-free and climate-friendly concretes is at least as revolutionary, with MC becoming the first company to obtain DIBT – German building regs – approval.
Dr. Claus-M. Müller: We remain committed to innovation, because it is the driver of and an essential factor in our success. This was already true in the 1960s and still applies today: from our seamless and jointless bitumen-based roof coating products in those early years, to our special concrete admixtures and curing systems with built-in long-term protection in the 1970s; from the MC-Grip roadway traction system to the first quality assurance concept for concrete repair work in the 1980s – which has become the standard in the marketplace – and more recently to our PCE-based concrete admixtures. In the 1990s, we were one of the first construction chemicals companies to commit to the related initial development work and thus help these admixtures achieve their breakthrough in the market. And we have also been a market pioneer in the field of bitumen- and solvent-free waterproofing systems for structural and civil engineering applications.
Dr. Ekkehard zur Mühlen: Not to forget our innovations in tunnel construction, such as our cement-free annular gap grouting compound, which was developed for the Stuttgart 21 mega-project. This is a unique solution that can also be used in anhydrite-containing, i.e. swellable, rock. This solved a major problem for Stuttgart 21. Our environmentally friendly soil conditioning agents also ensured efficient tunnel driving, and not only in this project.
What has particularly distinguished MC over the years? How would you characterise MC's DNA?
Nicolaus M. Müller: Our claim "Be Sure. Build Sure." sums it up very well: Since the very beginning, we have acted as a reliable partner for our customers. For us, it goes without saying that our support extends far beyond the sale and delivery of our products. Especially in challenging times, such as we are experiencing at the moment, it is evident that both our customers and our employees greatly appreciate this reliability. Our claim Be Sure. Build Sure. nicely encapsulates this brand equity.
Dr. Claus-M. Müller: "A company is only as good as its people" – the quote from my father and company founder is still an essential constituent of our DNA today and best expresses what has distinguished MC over the past 60 years, namely the ability and willingness of our employees to go that extra mile.
Nicolaus M. Müller: And this will always be a guiding principle of our people management at MC going forward.
Dr. Claus-M. Müller: Exactly, because only with professionally and socially competent and committed employees are we able to be successful and develop innovative solutions for our partners.
Dr. Ekkehard zur Mühlen: The DNA of MC certainly includes a passion for construction chemistry that cannot be found everywhere, leading to technically sophisticated, occasionally idiosyncratic solutions that underpin the great reliability of our products. This enables MC time and again to keep pace with much larger companies and to win projects against even the toughest competition, while also impressing its clients with compelling individual technical, often unique, concepts.
At a more personal level: What has been your best moment at MC to date?
Dr. Claus-M. Müller: I don't have a best moment but have indeed been fortunate to experience many wonderful events – far beyond the scope of this article. I find I feel true satisfaction and joy with every single goal achieved.
Dr. Ekkehard zur Mühlen: For me it has been great to see how successfully the managements from Eastern Europe to the Far East – regions that are in my personal area of responsibility – have developed. Management in these countries has become more and more independent and people and personalities have been able to develop and grow within and through the working environment created by MC. We now have really strong and sure-footed market players growing up everywhere!
Nicolaus M. Müller: My first six years at MC-Brazil were very nice and have certainly left their mark on me. It was a great experience to build up a sales department and product portfolio from scratch. Understanding a new market, working out a suitable strategy, building up a new team and mastering new challenges every day – and celebrating successes together with the people there – gave me a lot of pleasure. Privately, too, I enjoyed my time in Brazil very much and learned to appreciate the openness to new ideas that pervades Brazilian culture.
What major headwinds have you faced in recent years? And which are you currently focusing on?
Dr. Claus-M. Müller: We are living in very unusual times, the likes of which I have never experienced before. Since March 2020, our economic, social and political existence has been dominated by the coronavirus pandemic. This has led to massive restrictions on our lives; however, we as MC can consider ourselves lucky to have gotten through this time largely unscathed. At the beginning of last year, another challenge was added, namely a worldwide shortage of raw materials unprecedented in recent history, which has led to drastic price increases for many commodities.
Nicolaus M. Müller: Unfortunately, this situation has not really improved to date; that said, we are glad that we have consistently delivered despite the difficulties. And, of course there is the issue of the invasion of Ukraine by Russian troops on 24 February 2022. The political, social and economic uncertainty this has caused is palpable, and the consequences of the conflict are completely unpredictable. Added to this, inflation has been rising for months, with the danger of a recession also growing. This year's trading environment is certainly set to suffer.
Dr. Ekkehard zur Mühlen: Despite everything, the transformation of MC continues. We find ourselves on a sound financial footing and – equipped with increasingly better administrative tools – we have succeeded in a very short time in introducing a powerful price controlling system and establishing it as a management and control instrument. In addition to motivated employees, good and solid products and a widespread hands-on mentality, these are exactly the tools that are needed not only to sail through stormy times, but also to come out of them stronger!
Perhaps now a look into the future: Which issues are likely to be particularly relevant to MC in the coming years?
Dr. Claus-M. Müller: I retired from executive management at the beginning of this year and have since been focusing on the work in our Advisory Board. In this new role, I support the management in an advisory capacity, so I am happy to pass this question on to my son and Dr. zur Mühlen.
Nicolaus M. Müller: We intend to continue pursuing our growth strategy and drive further international expansion with the aim of building strong, regional organisations outside of Europe. In addition, we will continue to focus on the development of sustainable solutions.
Further progress in the field of digitalisation, both internally and externally, will likewise remain an important priority – also with a view to offering our partners digital solutions that provide the best possible support for them in their projects. We have already made good progress in this regard. Internally, we intend to continue improving the efficiency of our business processes, with both digital and analogue solutions, in all areas.
Dr. Ekkehard zur Mühlen: This also means building up further local organisations and bringing new companies into our group, either through acquisitions or the establishment of greenfield entities, to enable us to continue developing from an internationally structured grouping to a global organisation. To this end, we intend to create powerful central functions in the coming years that will support and strengthen the regions on the management side in order to be able to maintain our strong growth momentum. We will also expand our administrative functions and implement new ERP architectures at the core of our digitalisation strategy.
Finally, a question that begs a brief answer, if you wouldn't mind: If you had one wish for MC, what would that be?
Nicolaus M. Müller: I would like MC to be by far the most attractive employer in our industry and thus always retain and attract the best employees and talent. Success and everything else are then a logical consequence.
Dr. Ekkehard zur Mühlen: My wish is that we will continue to have the courage to listen to our regional management and local management in order to continue to effectively support them in the future, especially in the expansion of their organisations, and that they do not get bogged down in corporate structures as their and our size grows.
Dr. Claus-M. Müller: And I sincerely hope that MC will continue to develop as successfully as it has in the past as an independent family business.
Thank you very much for these concluding words. May all your wishes come true.