MC-Bauchemie Müller GmbH & Co. KG had plenty of reason to look forward to December 2021: 60 years previously, on 1 December 1961, the company founded by Heinrich W. Müller officially started its business activities.
The history of MC-Bauchemie from 1961 until today
MC-Bauchemie Müller GmbH & Co. KG had plenty of reason to look forward to December 2021: 60 years previously, on 1 December 1961, the company founded by Heinrich W. Müller officially started its business activities. Unfortunately, there was no celebration of the diamond jubilee due to the restrictions of the coronavirus pandemic, but there are firm plans in place to hold one once the pandemic is over. From a small company with 25 employees, MC-Bauchemie has developed into a globally active group with a workforce of over 2,500 dedicated people. So let us now take a look at the history of MC together!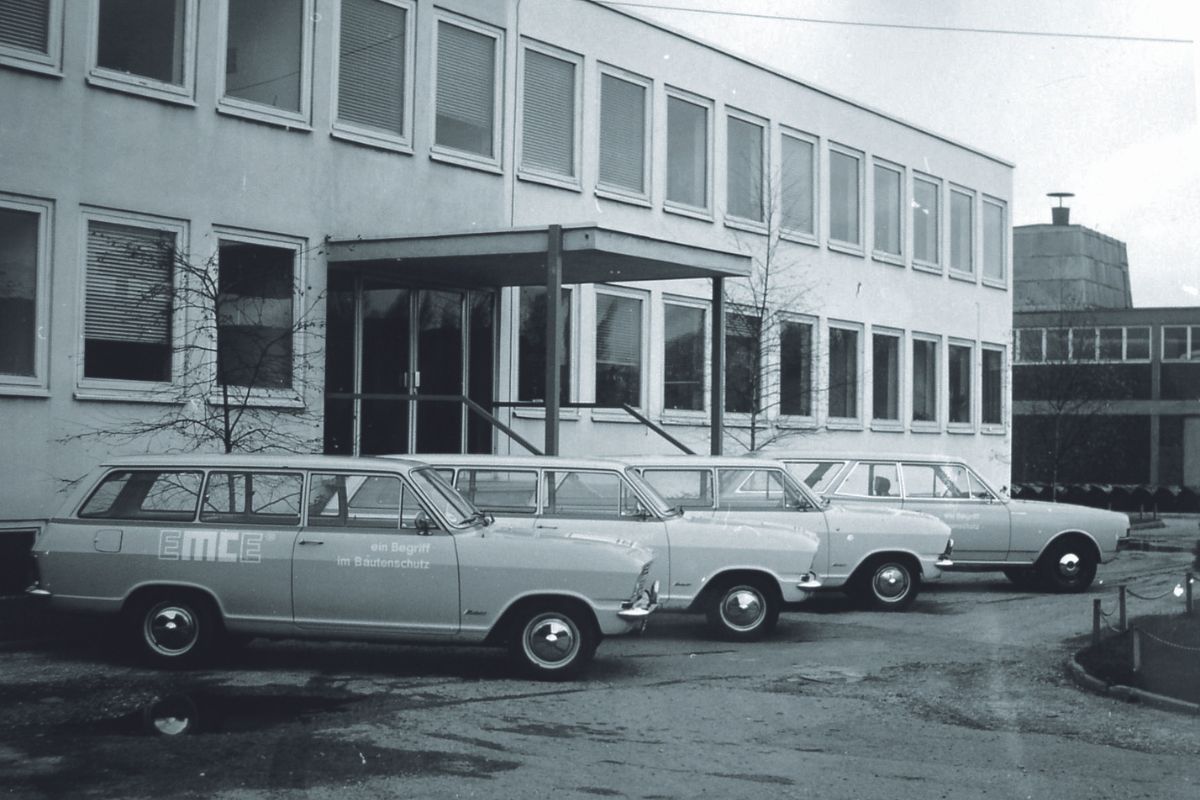 MC-Bauchemie: in the construction industry around the globe, this name is associated with attributes such as reliability, quality, innovation – and of course, in keeping with the company's motto "Be sure. Build sure." – safety in construction. Over the past six decades, this mid-cap family-owned company has developed from an ambitious business with 25 employees to a leading international manufacturer of construction chemicals, producing innovative solutions for the treatment, curing and hardening of concrete, as well as for the protection and maintenance of buildings. The group of companies with its more than 2,500 people has long been active worldwide. Research, development and production are carried out at more than 20 sites on several continents. And in more than 40 countries in Europe and overseas, expert advisors are available to investors, planners and operators of structural and operational facilities. Hence, a large part of the company's turnover is now generated outside Germany.
Founded in Essen
The starting point of this success story has little in common with those garage start-ups that we hear so much about in relation to e.g. America's high-tech giants. However, with MC too, the initial springboard was small. Just after the war, an energetic and entrepreneurial Heinrich W. Müller founded and subsequently successfully developed the sales company Prodorit Vertrieb Müller & Co. together with Mannheim-based Th. Goldschmidt AG. With the consent of the latter, in 1961 he then opened up a new operation under the name MC-Bauchemie to serve the rapidly developing market for ready-mix concrete and precast components. He wanted to expand the production of concrete and mortar admixtures in order to participate in upcoming major infrastructure projects involving areas such as highway and subway construction. However, with its focus very much on its building protection business involving bituminous membrane and coating products and corrosion inhibitors, Th. Goldschmidt AG had little time for this business model – and so Heinrich decided to set up his own company in parallel with the established sales company he had been running, based on a small production plant in Essen built on the Th. Goldschmidt AG site.
Move to Bottrop
Thanks to his good contacts in the industry and with tendering authorities, this founding father was able to convince numerous customers and clients of the advantages of MC products in a relatively short time. His motto "Business is done between people, not companies" proved to be an effective guiding principle, and by 1962, the young company in Essen was already producing to capacity. That meant a long-term solution was needed to allow expansion. In Bottrop, the newly created "Am Kruppwald" industrial estate offered a suitable site for construction of the new capacity required. A production facility for the manufacture of concrete and mortar admixtures was completed there in 1963, with a laboratory, a small application technology centre, a warehouse and a goods-out department all part of the integrated setup.
New business areas
With the dissolution of the Prodorit sales company in 1969 and the resulting separation from Goldschmidt, new opportunities opened up for MC, allowing more creative scope to the company founder. Heinrich W. Müller decided to push ahead with the in-house production of bitumen and plastic products at MC-Bauchemie. With his entrepreneurial flair and his interpersonal skills, he was able to attract practically all the former Prodorit employees to MC-Bauchemie, despite a similar offer from Goldschmidt. The foundations for MC's successful future were thus laid.
MC's second generation takes the tiller: Dr. Claus-M. Müller
In 1972, Claus-M. Müller, the elder of Heinrich W.'s two sons, joined the company after completion of his engineering doctorate at the University of Clausthal-Zellerfeld. He was appointed Managing Director in 1974 with the primary task of broadening the research and development areas of the still expanding company. He had an ultra-modern laboratory complex built, and was also responsible for a new paint and powder plant, the introduction of the first production planning and control system and the installation of high-bay warehouses in the logistics area. Subsequently, he turned to building up a foreign business with all the entrepreneurial risks that such an endeavour entailed. MC had already made its first forays beyond Germany's borders in the early 1970s with the founding of MC Bati Chimie in Grosbliederstroff in the Moselle Département, as a distributor of MC products in the French market. Now similar expansion projects were to be pursued in other European countries. In Castleblayney, Ireland, not far from the border with Northern Ireland, Dr. Claus-M. Müller founded MC Building Chemicals in 1979 and, a little later, ECI (European Chemical Industries). These were MC's first manufacturing facilities outside Germany, producing silicone-based sealants and, from the mid-1980s, also double-glazing sealants for the entire European market.
Dr. Bertram R. Müller joins MC
Meanwhile, Dr. Claus-M. Müller's younger brother Dr. Bertram R. Müller, holder of a law doctorate earned from Bonn University with internships in Paris and London, had been gaining professional experience as a lawyer in an auditing, tax consulting and legal practice. He finally joined the family business in 1982, initially devoting himself primarily to expanding the business in Germany. In 1983, for example, he oversaw the takeover of the Esslingen plant of Unitecta-Bauchemie, a part of the Belgian Solvay Group. Dr. Bertram R. Müller continued this business under the newly established company Murasit-Bauchemie, managing its integration within MC as well as the systematic development and expansion of sales and distribution in the southern German states, ensuring fast and low-cost delivery to customers not just in the lower half of Germany but also in Austria and Switzerland. At the same time, he introduced a new sales structure for MC with the establishment of a network of regional service centres throughout Germany. Together with senior manager and authorised signatory Josef Heckerott, he separated the company's building protection and surface treatment operations into two different segments. In addition, Dr. Bertram R. Müller developed a forward-looking training and professional upskilling system for both new employees and customer personnel, a concept that still today enjoys benchmarking status in the industry. These measures and the implementation of modern marketing methods served to create the basis for the dynamic development of MC-Bauchemie.
Advancing internationalisation
After the successful establishment of ECI (European Chemicals Industries), Dr. Claus-M. Müller turned his attention to further expansion targets. The founding of MC-Bauchemie India in Bombay (now Mumbai) on 1 January 1986 constituted MC's first foray into a continent outside Europe. Two years later, a well-equipped production plant for concrete and mortar admixtures, together with a wide variety of concrete repair and sealing products, had been built in Ankleshwar in the state of Gujarat. MC-Bauchemie has since become well established on the Indian subcontinent. The strong commitment of MC in Brazil, which started in 1999 and continues to this day, can also be traced back to Dr. Claus-M. Müller. And in 2001, together with Ottli, a well-known manufacturer of tile adhesives under the "Plitonit" brand, MC-Bauchemie Russia was founded in St. Petersburg. The business also had a branch in Moscow, enabling activities across the huge Russian market to be more efficiently managed. In addition, a new plant with state-of-the-art technology for the production of MC and Plitonit products was built near Kirovsk, with further sites in Tyumen, Samara and Krasnodar following.
"Growth without frontiers" following Germany's reunification
Meanwhile, Dr. Bertram R. Müller, a convinced European and, joining his brother, an MC managing director since 1984, was driving the establishment of sales companies in the neighbouring countries of Switzerland, Austria, the Netherlands and Belgium. After the fall of the GDR and the Iron Curtain in 1989, he initially focused on developing activities in the new federal states. This fundamental change in the political landscape also allowed for a completely new way of thinking at the European level. In the years that followed, sites were added in Central and Eastern Europe with numerous young, dynamic companies being established in Poland, the Czech Republic, Slovakia, Hungary, Bulgaria, Romania, Ukraine, Lithuania and later also in Croatia, Serbia and Bosnia and Herzegovina. Needless to say, MC was also looking westward, with Dr. Bertram R. Müller identifying plenty of potential for the dynamic expansion of MC-Bauchemie in, for example, Netherlands (again), France, Portugal and Spain.
Ultrament focused on DIY stores
MC's activities both national and international were by this time burgeoning. In order to be able to target different sales segments and customer groups, another German subsidiary was founded in 1975, Ultrament GmbH, with the remit to respond to the boom in demand for do-it-yourself products. Items from the MC range were adapted, designed and packaged to meet the special requirements of the DIY store. Initially, the range focused on bitumen coatings, fi llers and building waterproofi ng systems. Today, Ultrament offers complete systems in 15 countries throughout Europe to solve a wide variety of problems in construction, protection, sealing, renovation and refurbishment.
Botament targets trade professionals
In the mid-1980s, MC set up a department for professional products within the Ultrament portfolio. From 1985 onwards, this unit assumed responsibility for sales to builders merchants primarily serving the needs of small and medium-sized craft and trade firms. With success on the increase, in 1993 Botament-Systembaustoffe GmbH was founded from this specialist department as an independent company. The focus was on products for tile laying, the waterproofing of structures, levelling compounds and flooring systems. In the meantime, Botament has also established itself as a system provider of highquality and innovative products for all aspects of damp and wet room renovation and enjoys a position of considerable brand strength in the professional trades sector of 14 European countries.
MC's 50th: ongoing expansion and internationalisation
The company's 50th anniversary in December 2011 was celebrated under the banner "Committed to innovation". Senior boss Heinrich W. Müller, who steered the company's fortunes alongside his sons into old age, did not live to see this great moment. However, it is thanks to his ever-optimistic approach, his knowledge of materials and his intuition in divining the interests of his customers that MC-Bauchemie was able to continually expand and consolidate its position in manufacturing, with tendering authorities and in the construction industry. Having reached its half-century, MC enjoyed an excellent market position with a very good basis for further successful development going forward. With the commissioning of a production plant for polycarboxylate ether (PCE) concrete admixtures in Bottrop in July 2012, MC laid the foundation for a new chapter in the development of this technology based on the company's own patented process. Internationalisation also continued apace: in Brazil, the second plant in South America had opened in Vitória de Santo Antão in the north-eastern state of Pernambuco. And the establishment of an MC company in Guinea meant MC also now had a West African base from which to develop the large, high-potential African market. Shortly before the start of 2012, the company was shaken by the death of Dr. jur. Bertram R. Müller. With his characteristic hands-on approach over more than three decades, he had singlemindedly and persistently driven and decisively shaped MC's development as a European and globally active family business. His brother Dr. Claus-M. Müller subsequently managed the fortunes of MC alone for a time, thereafter being joined – on 1 January 2014 – by a new appointee as Managing Director, Dr. Ekkehard zur Mühlen.
Setting a course for the future – with Nicolaus M. Müller, the 3rd generation joins MC
"Be sure. Build sure." has been the banner slogan of MC-Bauchemie since 2015. It is part of MC's new brand and positioning concept, developed in a German-Brazilian cooperation project. Dr. Claus M. Müller's son Nicolaus M. Müller, at the time working as Sales Manager for MCBrazil, played a leading role in this project. He returned to Germany in February 2017 after working for MC in Brazil for several years and was appointed as a further Managing Director of MC-Bauchemie Müller GmbH & Co. KG. He thus became the third generation of Heinrich-W. Müller's family to take on executive managerial responsibilities at MC. The company was thus now in the safe hands of a triumvirate consisting of Dr.-Ing. Claus-M. Müller, Dr. Ekkehard zur Mühlen and Nicolaus Müller.
Expansion continues
In August 2017, MC also acquired the majority of shares in BIFI JSC in Vietnam, thereafter renamed MC-BIFI Bauchemie JSC. It remains one of the leading Vietnamese manufacturers of concrete admixtures and grinding auxiliaries for the cement industry. In 2018, the majority shares in a company in Ethiopia were also acquired. This further extended the MC group's commitment in Africa to East Africa. And things were also moving forward in Asia – concurrent with a major restructuring of business activities, the establishment of a separate company in the Philippines, MC-Bauchemie Philippines Inc., was completed in December 2020. MC's presence in South America was also strengthened with the acquisition of both PK Chile and then Bautek in Chile. MC-Bauchemie Chile and Bautek merged in 2015 to form MC Bautek Chile. And on 1 April 2021, MC acquired a majority shareholding in Linox in Bolivia to commence business activities in this promising market. These bold expansion steps, together with a large-scale investment programme at the Bottrop site, numerous projects for internal process and work optimisation and, last but not least, the advancing digitalisation of the company's activities, served to form a solid basis for the further growth and continued successful development of the MC group.
Growing together
Since the company started out, the number of MC employees has risen continuously. There were 25 at the time of its establishment, increasing to 160 by the beginning of the 1970s. By the early 1990s, there were already more than 490, and by the beginning of the 2010s, around 1,800. In the anniversary year 2021, the people working for the group of companies worldwide numbered some 2,500. The importance of these employees for MC was underlined by the Top Job awards in 2018 and 2021. The accolade, presented by the Centre for Employer Attractiveness (zeag GmbH), is given to companies that make a special contribution to a healthy and at the same time high-performance workplace culture. These awards identify MC as one of the best employers in Germany. MC's employees receive ongoing training and professional development, operate in a markedly international environment and have a high level of technical expertise. Since the group of companies has always been committed to innovation, many MC employees are already working today on tomorrow's projects in order to continue to provide tailored solutions to MC customers worldwide. With its know-how, experience and competence complemented by a worldwide presence, MC-Bauchemie is well positioned to meet the challenges of the future in a globalised economy. A sustainable corporate philosophy, clear and transparent management structures, highly qualified employees, groundbreaking products – and last but not least the strong continuity of a family-run business now in its third generation – are the components that have given MC its outstanding reputation at home and abroad over the past 60 years. And so, a slightly modified version of the age-old saying still holds true for MC today: Courage at the start brings success at the end, or to put it another way: "Who dares, wins!"