MC at the VIVAWEST Marathon 2019
For the first time MC-Bauchemie has started with five teams at the VIVAWEST Marathon, which took place for the seventh time and in which MC has participated for the fifth time in a row. On 19 May 2019, 20 employees of the MC from different divisions and all over Germany showed very good performances with five mixed relay teams* in the biggest marathon through the Ruhr area and at summerlike temperatures: the team MC PowerFlow won the mixed relay race with an outstanding time of 3:33:35 hours. The other MC teams also performed well, finishing in 8th, 15th, 18th and 21st place.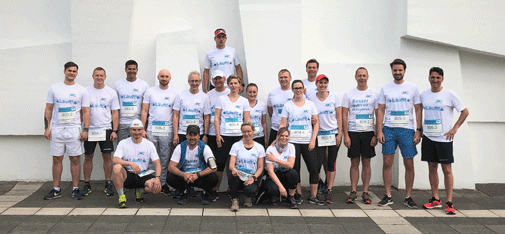 Things are getting better and better at MC-Bauchemie - not only in its business, but also in sports. For six years now, the employees of the construction chemicals manufacturer from Bottrop have been flying the flag for their own company at marathon events in the Ruhr area, underlining that team sports make fun and also connect people across ages and departmental boundaries. Once again this year, MC employees from different divisions such as operations, R&D, warehousing, logistics, administration and sales and between the ages of 25 and 55 impressively demonstrated this. MC also set a new record with 20 participants. They obviously enjoyed the team running and the great atmosphere of this marathon, which ran along close to the MC site in Bottrop.
Great performance of MCs teams
Once again, the employees lived up to their mottos, which were on their shirts, "Running well!" And "Be sure. Build sure." The MC PowerFlow team took first place in the mixed relay race in an outstanding time of 3:33:35 hours on this challenging track profile. With 3:51:37 hours the MC Exzellent team finished in 8th place. MC TopSpeed reached the finishing line in 3:59:47 hours and in 15th place, MC FastKick in 18th place in 4:08:05, and MC ombran rapid in 21:10:42 in 21st place. The MC teams named after product systems of MC-Bauchemie, reached overall better times and rankings than last year. Despite the good results, however, the fun of running in a team with colleagues from different departments and regions was in the focus. "Our runners are once again impressed by this unique team event. We will carry this positive energy into our organization and be sure to be back again next year," draws Nicolaus Müller, Managing Director of MC-Bauchemie Müller GmbH & Co. KG, who was member of the MC TopSpeed team, a positive conclusion.
* In mixed relay teams women and men are running together.