On 19 and 20 February 2019, LICON and MC-Bauchemie celebrated the official launch of their joint venture in Addis Ababa, Ethiopia.
On 19 and 20 February 2019, LICON and MC-Bauchemie celebrated the official launch of their joint venture in Addis Ababa, Ethiopia. MC-Bauchemie presented itself as LICON's new majority shareholder at three events, variously aligned to construction industry professionals and government and administration representatives, customers and the LICON's employees.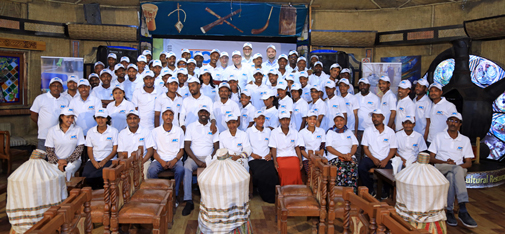 At the end of November 2018, MC-Bauchemie acquired the shares in LICON Manufacturing PLC, a manufacturer of plasters, renders and construction products, previously held by CONMIX Ltd., a building products manufacturer domiciled in the United Arab Emirates. A number of shares owned by minority shareholder LICA PLC were also purchased as part of the package. LICON was founded in Addis Ababa in 2009 and since then has been producing plasters, tile adhesives, mortar, concrete admixtures and repair materials for the Ethiopian construction market. The company currently employs over 80 people in production, R&D, administration and sales.
The first event on 19 February 2019 was attended by 60 representatives from government, various public authorities, the construction industry, planning and engineering offices, and architects. Dr. Egg Argaw Asha, Deputy Director General of the Ethiopian Construction Project Management Institute (ECPMI), welcomed MC's engagement in Ethiopia and stressed its importance for the further development of the construction industry.
Major interest in MC-Bauchemie's technologies
Then, on 20 February 2019, an event was held for the distributors and application companies that work hand-in-hand with LICON. The approximately 80 participants showed great interest in MC, the new joint venture structure and the first insights provided into MC's innovative technologies. Lemma Teklehaimanot of LICON's minority shareholder LICA PLC commented: "There is no doubt that MC's involvement will further advance the successful development of our company. And this also represents a great opportunity for our customers to grow with us."
Nicolaus Müller, Managing Director of MC, introduced the MC Group and explained the reasons why MC was investing in Ethiopia. "For some years now, Ethiopia's construction sector has been undergoing above-average expansion. We want to participate in this strong growth in what is one of Africa's most populous countries and, in so doing, make a contribution to improving the quality of construction in Ethiopia," he said. This is to be achieved by introducing a range of new management tools, product systems and MC technologies, and by further developing employee skills and customer awareness. Demissie Heilemariam Abebe, Managing Director of LICON, explained how LICON can be expected to benefit from this new joint venture.
In the second part of the event, Moritz Koch, who as Business Development Manager/Africa at MC-Bauchemie will continue to actively support MC in Ethiopia going forward, presented a number of MC's product technologies ranging from acrylic and 2-component bituminous waterproofing systems to product solutions for tiling and tileless bathrooms. Together with application engineer Lars Lindner, he then demonstrated their workings to his Ethiopian audience comprising dealership and application company representatives, who were then given the opportunity to gain some initial hands-on experience for themselves.
Christoph Hemming, the Regional Manager responsible for MC's business activities on the African continent, presented the next phases in the joint venture and explained the role Ethiopia would be playing for MC-Bauchemie in the region: "We want to further expand production in Ethiopia, introduce new product technologies to the market and use Ethiopia as a strategic hub for extending our business activities in East Africa," he said. The prospect of new concrete admixture technology being introduced into the Ethiopian market was acknowledged and discussed with great interest by the participants.
"Part of the MC family"
In the afternoon of 20 February, the employee event took place in the traditional Yod Abyssinia restaurant, attended by 85 LICON people. In his welcoming speech, Managing Director Demissie Heilemariam Abebe made mention of the fact that "we are now officially part of the MC family and have the opportunity to grow, both as a company and as employee-stakeholders". This MC affiliation was underlined by all present wearing MC T-shirts and caps, which LICON had produced especially for the event. Nicolaus Müller expressed his heart-felt thanks for the kind reception afforded by his hosts before presenting the MC organisation. He underlined his pleasure at the prospect of working with LICON and its people, recognising that the workforce had been key in the business's successful development over the years. The following dinner was accompanied by traditional Ethiopian music and dance. And to the great delight of the hosts, the MC team from Germany endeavoured – to the best of their ability – to perform a few Ethiopian dances.