The first issue of our employee and customer magazine 'MC aktiv' in 2018 has been published!
MC aktiv 1/2018 has been published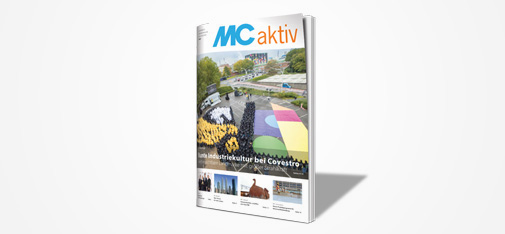 To mark the 100th anniversary of the Dormagen site in Germany, Covestro Deutschland AG has transformed its high-bay warehouse with our high-performance coating MC-Color Flair vision into a gigantic, colourful landmark against the industrial landscape and strikingly visible from afar. In addition, we again offer many interesting project reports, product news and general news about MC.
You also want to read our magazine?
Click here, to get to the PDF files of our current MC aktiv issues:
To the recent issues of MC aktiv...
You want to subscribe for it?
Your contact:
Saki M. Moysidis, Head of PR & Communication