With our sealant MC-DUR LF 680, bridges, trough structures and parking decks can be quickly and reliably waterproofed in one day, even in autumn and winter.
Secure waterproofing of bridges in just 1 day
In contrast to conventional epoxy resins with their sensitivity to air humidity and long curing times, MC-DUR LF 680 performs well at temperatures down to 2 °C and in high humidity, simultaneously serving as a primer, scratch coat and sealant. This means that bridges, trough structures or parking decks can be completely waterproofed reliably and quickly, even in the months of autumn and winter.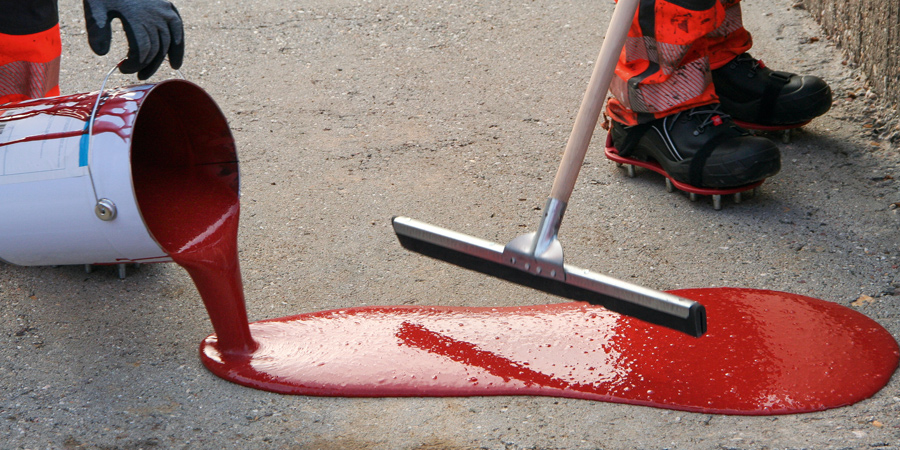 Bridge deck slabs and caps as well trough structures and parking decks need to be sealed in order to effectively protect the concrete and its steel reinforcement from surface water and de-icing salts – an essential prerequisite for longer service lifetimes. Waterproofing with bituminous membranes under an asphalt layer is regarded as highly effective in such applications. In order to create an intimate interface between membrane and substrate, substrate pre-treatment with a reactive resin is essential.
Application of MC-DUR LF 680 even in poor weather
MC's special red-transparent resin MC-DUR LF 680 has been tested as a primer, sealer and scratch filler for roadway slabs and parking decks in accordance with German code of practice TL/TP-BEL-EP and enables the complete waterproofing process to be carried out in just one day. In contrast to conventional epoxy- and PMMA-based resins, MC-DUR LF 680 cures quickly and reliably, with moisture and temperature exerting very little influence on the process. It can even be used on a slightly moist substrate, yet still offers short reaction and overworking times. MC-DUR LF 680 has also been tested on young concrete. Going beyond the official test standard, this speciality resin fully meets the requirements stipulated after just five days rather than the seven days specified.It thus offers planners and applicators not only enormous time savings but also greater scheduling reliability and cost-effectiveness in respect of their waterproofing measures. MC-DUR LF 680 has an overworking time of just one hour at 20 °C and 50 percent relative humidity, while at 2 °C the waiting period is still only around two and a half hours. This enables very fast application of the waterproofing membranes, even in the months of autumn and winter – a unique capability in this segment. And there is no formation of a weakening, low-adhesion carbamate layer, something that can occur with epoxy resins.
You can apply MC-DUR LF 680 like a conventional epoxy resin, but without having to resort to the dosage of catalysts or other additives usually required. The speciality resin can be used with almost all known bitumen membranes and has impressively proven its compatibility and effectiveness in tests by Kiwa GmbH, as well as in many projects representing several 10,000 m2.

Your contact:

Dr. Jonas Tendyck, Head of Product Management Resin Flooring