On 23 and 24 January 2020, the ombran division of MC-Bauchemie held the third Ombran Conference at MC-Bauchemie's training centre in Bottrop.
3rd ombran Conference in Bottrop
On 23 and 24 January 2020, the ombran division of MC-Bauchemie held the third ombran Conference at MC-Bauchemie's training centre in Bottrop. More than 60 operators of drainage and wastewater systems, specifiers and planning professionals, civil engineers and applicators accepted MC-Bauchemie's invitation, making the most of the opportunity to exchange practical experience in the rehabilitation of underground sewage infrastructure and learn of the latest technical developments.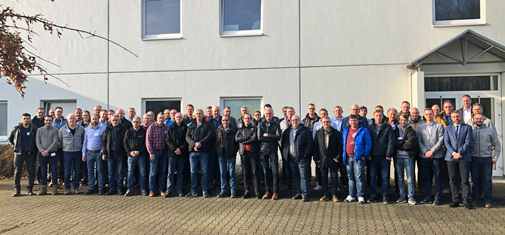 Following two successful events in previous years – in which the focus was on MRT* technology and the needs of applicators and repair companies – the range of topics has been expanded to include the entire portfolio of underground sewage infrastructure. "Following our events of the last two years, engineering offices and local authorities have expressed interest and asked whether they could also take part," explains Andreas Over, who – after many years of field service – took on the role of Sales Manager Germany for the ombran division on 1 January 2020. "Our response has been to adapt our concept to also address the needs of planning and engineering offices and operators and – of course – to also invite these interested parties to the conference," says Over, delighted at the ensuing reaction: "We have seen the number of attendees double versus the previous edition. But this was not the only reason why our conference this year was such a success!"
After the welcome and a general introduction, Andreas Over and Dominik Hermens, the Managing Director of Kanal- und Umwelt-Service Hermens GmbH, kicked off proceedings with a practical report on the waterproofing of sewers and manholes with the new injection system MC-Montan Injekt. Sebastian Scheffler from Wehe GmbH & Co. KG, which specialises in sewer and manhole rehabilitation and sewerage inspections, then presented a current sewer and manhole rehabilitation project in Halstenbek, a town near Hamburg, in which a special coating structure was applied using the MRT system. After lunch, the applicator and repair firm representatives were given insights into new technologies and products in a series of practical workshops, while the specifiers, engineers and operators dealt with topics pertaining to the planning and implementation of refurbishment measures, including quality assurance. And they too were provided with key information relating to products, applications and robotics. After the afternoon workshops, all participants met again for a discussion and question-and-answer session.
The ombran Conference presented an ideal combination of theory and practice, once again providing the attendees with practical insights into the repair and refurbishment of sewers and manholes, coupled with the opportunity for professional discussion within the community of rehabilitation specialists. "The primary purpose of this event is to facilitate a rigorous exchange of information between our participants – encouraging the operators, planning and engineering professionals and application companies involved in this specialised field to talk to each other, assisted by our own expertise," explains Andreas Over in summarising the conference concept. And it certainly appears that it has all been worthwhile, if the feedback since received is any indication.