We introduce to you the five experienced members who have taken over responsibility for the German business since September 2022.
Dedicated management team assigned to MC-Bauchemie in Germany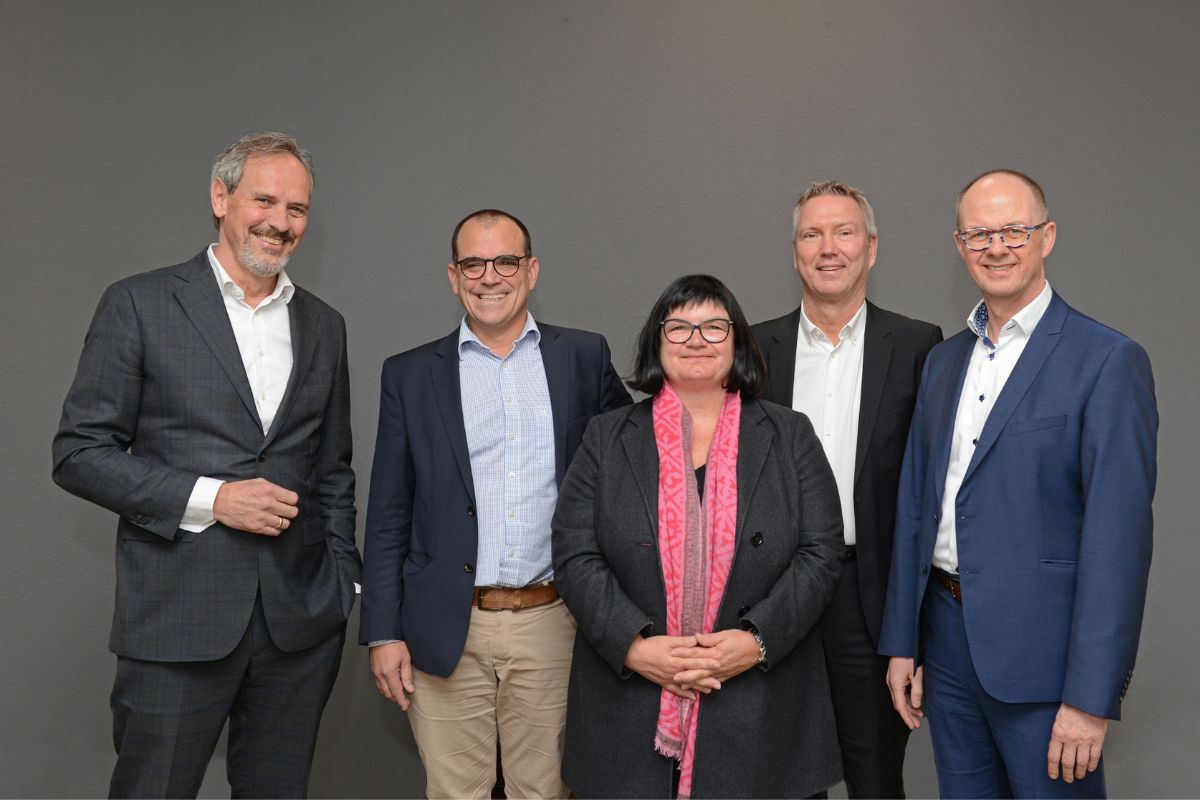 In recent years, the MC-Bauchemie Group has embarked on the path of decentralisation and strengthening the independence of its country companies in order to align the range of services even more closely to local customer requirements. In this context, adjustments have also been made to the global, regional and national organisations. One of the outcomes of this has been the introduction - in September 2022 - of a Management Committee for MC-Bauchemie in Germany consisting of five experienced individuals who together have successively assumed more and more responsibility for MC's German business.
Agile, decisive leadership for Germany
"The aim of this new structure is to create a powerful management team that can concentrate fully on our day-to-day German business while acting independently and with agility. In this way, we also want to speed up the decision-making processes," state the two managing directors of the MC-Bauchemie group of companies, Dr. Ekkehard zur Mühlen and Nicolaus M. Müller. With the period through to the end of 2022 having been used as a transitional phase to gradually transfer responsibility to the new Management Committee in Germany, the quintet will take over MC's Germany-based business completely on 1 January 2023. Four of the five officers in the team have been working successfully for the MC-Bauchemie Group for many years. And all five committee members bring to the table many years of experience in their assigned areas of responsibility.
Introducing the members of the new Management Committee
Anja Spirres (53) heads the Infrastructure & Industry division. Born in Bottrop (the home of MC-Bauchemie), she has been with the company for more than 30 years. After completing her apprenticeship as an industrial clerk at MC, she went on to read law at university. Following the successful completion of her studies, the now fully qualified lawyer rejoined MC in 1999, initially assuming responsibility for both the commercial management of the back office in the Infrastructure & Industry division and management of KST Kunststoff-Technik GmbH & Co. KG, a sister company of MC- Bauchemie. In 2005, she became sole Head of the Infrastructure & Industry division and, since her further appointment in 2016 as Regional Manager, has also been responsible for business management within the Germany/Austria/ Switzerland (DACH) region.
Dr. Christoph Schüle (51) heads up the Concrete Industry division. Following his apprenticeship as an industrial clerk, the Esslingen native went on to study business administration. After obtaining his degree and doctorate, he joined a major auditing and consulting firm, thereafter moving on to the construction supplies industry. In 2006, he joined MC as Sales Manager for the Esslingen Service Centre, and since 2016 has been Segment Manager Concrete Industry, for which division he continues to be responsible both nationally and internationally. He also now manages the Esslingen Service Centre, which boasts the highest sales revenue of all MC's service centres in Germany.
Dirk Bente (59) is Head of Finance & Accounting. After his training, the Sprockhövel native joined a tax consultancy and auditing office as a taxation assistant. In 1988, he took up the post of sole accounts clerk working for an industrial company belonging to a larger group where, having in the interim successfully studied to become an accountant, he rose to the position of Head of Group Accounting. He remained there for 15 years, during which time he completed a part-time correspondence degree in business administration. It was in 2005 that he finally joined MC-Bauchemie as its Head of Finance and Accounting.
Roland Schepers (63) is Head of the Building Distribution division (building materials trade and DIY). The graduate civil engineer and concrete technologist has worked as a technical consultant, product manager, sales manager and managing director for various companies in the building materials and concrete sector over the past 30 years. Before September 2013 when he was appointed Managing Director of Botament GmbH, a sister company of MC-Bauchemie that distributes system building materials for professionals via the building materials trade, he worked for five years as managing director for a steel fibre manufacturer. At the end of 2015, the Duisburg native likewise assumed the management of Ultrament GmbH, also a sister company of MC-Bauchemie, which distributes building materials for end consumers via DIY stores and online platforms.
The management team is completed by Dr. Detlef Wolf (59), who took over as Head of Operations (Production, Technology, Logistics, Purchasing) on 1 September 2022. After training as an industrial fitter and then studying for a degree in mechanical engineering, he completed his engineering doctorate at the University of Duisburg-Essen based on research on an application-relevant advancement in plastics technology. He then worked for many years as a production and operations manager for various corporate groups and family-owned companies in the field of plastics manufacturing and processing. He has many years of management experience and most recently worked abroad in Europe as managing director for an internationally active film manufacturer.