MC-Bauchemie has developed and launched a new Emcoril product range for concrete curing, comprising the three product lines Pro-tect, Traffic and Compact.
Emcoril - new product range for concrete curing
MC-Bauchemie has developed and launched a new Emcoril product range for concrete curing, comprising the three product lines Protect, Traffic and Compact. These highly effective paraffin- and polymer-based curing agents are each aligned to distinctive application and performance profiles in building construction, road construction and industrial flooring.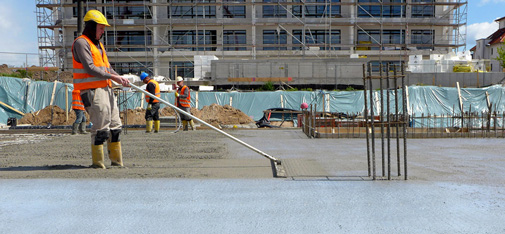 Common protective measures to prevent premature drying of green concrete, such as covering the surface with sheeting or jute mats, continuous spraying with water, leaving the formwork in place, or combining all these methods, are extremely time-consuming and costly. Liquid curing agents from the Emcoril product range are, by contrast, easy to apply and offer a high degree of reliability with excellent evaporation protection to ensure outstanding surface quality.
Emcoril curing agents – easy, effective, inexpensive and reliable
MC-Bauchemie's curing agents form a dense, continuous film that protects the surface of the green concrete from drying out. Early membrane formation allows the hydration process to progress smoothly and without interference, ensuring reliable achievement of the required performance properties relating to flexural and compressive strength, compactness and elevated surface tensile strength.
Emcoril Protect for building construction
The curing agents in the Emcoril Protect product line comprise the three products Emcoril Protect M, Emcoril Protect M lite and Emcoril Protect H and have been formulated for a broad spectrum of requirements in general concrete and building construction. They are applied on the matt-damp or freshly demoulded concrete and offer high evaporation protection. They are low-emission products and are therefore suitable for both indoor and outdoor applications. Emcoril Protect M and Emcoril Protect H are certified to German code TL NBM-StB 09 (Technical Supply Specification for Liquid Curing Agents for Concrete, 2009 edition).
Emcoril Traffic for road construction
Road constructions use liquid concrete curing agents almost exclusively. Road pavers have a factory-fitted spraying device that applies the curing agent as the concrete is laid, saving both time and money. The products of the Emcoril Traffic line include high-grade curing agents that have been especially developed for road construction. Emcoril Traffic F is a surface retarder and temporary evaporation protection agent in one. The product is mainly used in the production of noise-reduced traffic surfaces, in concretes with increased skid resistance and in washed concrete surfaces. Emcoril Traffic grip M and grip M white, on the other hand, have been formulated for the finish-curing of concrete surfaces required to meet specific road grip specifications. As a white-pigmented curing agent, moreover, Emcoril Traffic grip M white additionally offers high sun ray reflection so as to restrict temperature rises in the laid concrete.
Emcoril Compact for industrial flooring
In industrial flooring, smoothing concretes are used that often need to be ready for foot traffic after just three to four hours. It is absolutely essential to protect the concrete surface from premature drying for this so-called waiting time. Intermediate curing agents have become popular in floor-laying practice as a means of providing temporary protection. Once the smoothing operation has finished, a final cure then needs to be applied.
The Emcoril Compact series comprises Emcoril Compact pro, a combination of intermediate curing and smoothing aid, which serves as temporary evaporation protection during the waiting time of the industrial floor concrete. Emcoril Compact pro is very effective in supporting the smoothing process, enabling the creation of an even and compact industrial floor with the float and trowel. Emcoril Compact top is then applied for the necessary final cure. In addition to excellent evaporation protection and high surface quality, the product also ensures a good bond to subsequent coatings and can be readily painted over.