MC boosts presence in Vietnam
In August 2017, MC acquired a majority of the shares in BIFI JSC, Vietnam, a leading Vietnamese manufacturer of concrete admixtures and grinding aids for the cement industry, subsequently entering into a joint venture with some of the previous shareholders. As a result, MC and BIFI merged into MC-BIFI Bauchemie JSC. On 8 November 2017, the new company celebrated its official launch with an entertaining and informative gala programme in Hanoi attended by over 200 customers and employees.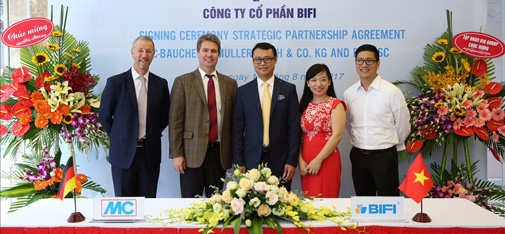 The event was also used to highlight MC as an internationally active family-owned company with a long tradition, and to provide information about its product systems. Attendees were wowed with an entertaining stage show and the elaborate choreography, which told the story of the origins of MC-BIFI.
Market leader in concrete admixtures and grinding aids
BIFI was established in 2004 and was initially active in northern Vietnam. Today, MC-BIFI has two production plants in Hanoi in the north and one in Ho Chi Minh City in the south of the country employing over 60 people in production, research and development, administration and sales. MC-BIFI has a considerable market share in concrete admixtures and also grinding aids for the cement industry in Vietnam. It therefore assumes a strategically important role in Southeast Asia for the MC Group, representing another decisive step forward pursuing the group's global growth strategy.
Major growth opportunities
"The construction industry in Vietnam has been booming for many years and major infrastructure projects are currently receiving very strong support, which is why we see great prospects for growth in this country," said Dr. Ekkehard zur Mühlen, Managing Director of MC and a member of the Board of Directors of MC-BIFI. He adds: "We also hope that our joint venture will lead to shorter distribution routes and lower production and distribution costs in the Southeast Asia region."
Ngoc Truong Vu, Managing Director of MC-BIFI Bauchemie JSC, said: "With the MC Group by our side, we are very well positioned in the Vietnamese market going forward. Our employees and customers are enthusiastic about this merger because 'Made in Germany' still carries enormous weight in Vietnam. With MC's additional know-how and leading product systems, we aim to tap into the areas of protection and repair of concrete structures in particular so as to generate further growth."
"MC and MC-BIFI will benefit greatly from each other, ideally complementing their respective operations. Together, we can help drive forward Vietnam's construction culture to even greater successes," emphasised Nicolaus Müller, Managing Director of MC, in his address.
MC in Asia
MC has been active in Asia for many years. It started with its own company in India in 1985 and in the following decades added further operations in Taiwan, Malaysia and Singapore. MC is also active in other Asian countries such as China, Indonesia, the Philippines and Thailand.