With MC-Estrifan Color, MC-Bauchemie has developed a new range of high-quality glazing and sealing products. In addition to the optimisation of screed and concrete surfaces for enhanced durability and protection, they also offer users the aesthetic benefits of coloration.
MC-Estrifan Color - the new surface finish of screeds
The product family includes MC-Estrifan Color as a pure glaze, the single-component, pigmented floor sealant MC-Estrifan Color Protect and the two-component, pigmented polyurethane sealant MC-Estrifan Color Protect Pro. As water-based products, they are simply applied using a roller in a crosswise motion.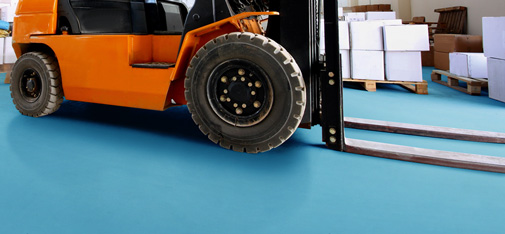 Refreshing upgrade and coloration
MC-Estrifan Color is a single-component glaze which is used to refresh, colour-match and enhance absorbent, mineral substrates such as visible screeds, concrete floors and concrete slabs or paving stones, with the natural structure of the substrate being visually retained. Since MC-Estrifan Color is readily resistant to both frost and de-icing salts, the glaze can also be used on outdoor, weathered surfaces.
Coloration and protection
As a pigmented floor sealant, MC-Estrifan Color Protect is ideally suited to a wide range of applications beyond floor refurbishment in cellars, storage rooms and workshops. Its inherently high abrasion-resistance makes it a safe solution wherever the floor is subjected to mechanical wear and tear. The sealed surface also has good stain resistance and is particularly easy to clean.
MC-Estrifan Color Protect Pro is a two-component, pigmented polyurethane sealant which, due to its very high mechanical resilience and particularly good chemical resistance, is primarily used for industrial floors. Offering particularly good resistance to plasticisers and de-icing salts, this premium member of the new product family and can even be used in garages and warehouses, for example.
Both products meet the requirements of Germany's AgBB code governing the health safety of building products, meaning they are harmless to health and can therefore be used indoors without reservation.