With MC-Color T 21, MC has launched the first 1k coating on the market, it offers low operating costs, high environmental compatibility and resilience as well maximum safety and cost-efficiency.
New 1C tunnel coating MC-Color T 21
Newly developed by MC-Bauchemie, MC-Color T 21 has been launched as the first single-component (1C) coating on the market capable of fulfilling the surface protection requirements of ÖBV, ASTRA and ZTV-ING Part 5 Tunnel, as well as those specified for OS 2 and OS 4 systems. In no way inferior to two-component coatings based on reactive resins, MC-Color T 21 also offers improved light yield with an optimum gloss level, simplified and faster cleaning, a reduction in operating costs, greater resilience and very good environmental compatibility. It also meets all requirements in terms of fire behaviour.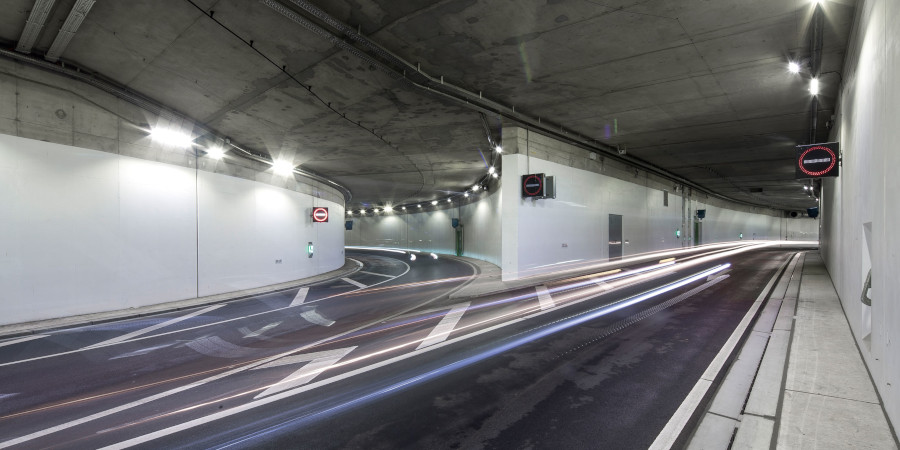 Coating systems for tunnel linings have to meet the highest requirements in terms of luminescence, gloss behaviour and light reflection – not to mention fire protection. They also need to reliably protect the concrete, have a low affinity to soiling and be easy to clean. Until now, these properties could only be achieved with two-component (2C) systems based on reactive resins. With newly developed MC-Color T 21, MC-Bauchemie has launched a ready-to-use 1C coating that not only meets these requirements – it also offers further advantages for planners and operators of traffic tunnels.
MC-Color T 21 tunnel coating: uniting the benefits of 2C and 1C products
Available in different colour shades and offering highly resilient durability, MC-Bauchemie's innovative tunnel coating consists of a water-based, single-component acrylate dispersion that combines the advantages of a 2C product with those of a 1C product. MC-Color T 21 can be applied easily and directly "from the bucket" by roller coating or airless spraying, thus eliminating the need for – and the considerable amount of work involved in – the mixing, repotting and remixing usually encountered with 2C products. And mixing errors are, of course, also entirely removed from the equation. Further advantages lie in improved construction site logistics and greater environmental protection. Moreover, while 2C products need to be mixed and then used immediately, partially empty containers of MC-Color T 21 can be resealed and reused on another day.
A single-component tunnel coating of robust longevity
Benefiting from MC-Bauchemie's innovative single-component 3D binder technology, the system creates very dense, highly robust surfaces offering long service lifetimes. Substrates coated with MC-Color T 21 are UV- and weather-resistant, making them absolutely colour-stable with a zero tendency towards yellowing. They also exhibit an extremely low affinity to soiling, meaning they pick up very little dirt, and they are easy to clean, very durable and highly scratch resistant. Specifically, MC-Color T 21 boasts the exceptional cleanability parameter of 0 according to EN ISO 13300 and the best possible wet abrasion resistance, equivalent to 0 µm after 200 scrubbing cycles (wet abrasion resistance class 1). This underlines the fact that substrates coated with MC-Color T 21 can be readily rubbed and scrubbed without any noticeable change in the surface. This and an innately already extremely low dirt pick-up significantly reduce the number as well as the duration of cleaning operations. The decreased use of cleaning agents also protects both the environment and tunnel operators' wallets.
MC-Color T 21 is water-repellent, water-impermeable, and offers a high level of protection against carbonation. Since the coating is also resistant to temperature, freeze/thaw cycling and de-icing salts, it can also be used in the spray and splash zone exposed to those de-icing salts.
MC-Color T 21 tunnel coating for more light and safety
With a gloss level of 40-60 GU according to EN ISO 2813 and a light reflectance value (LRV) of ≥ 70 – corresponding to class 70 according to BS 8493 – MC-Color T 21 can be relied upon for an optimum gloss and excellent lighting conditions in the tunnel. This allows tunnel operators to use light more sparingly for improved operational energy efficiency while simultaneously enhancing the safety of all road users. MC-Color T 21 also meets all requirements in terms of fire behaviour. The tunnel coating thus ensures optimum safety in traffic tunnels.