Ortolan Extra 772 KS combines outstanding separation performance with effective corrosion protection and environmental compatibility.
New concrete release emulsion
MC-Bauchemie has introduced a new environmentally friendly, mineral oil-based concrete release emulsion onto the market in the form of Ortolan Extra 772 KS with integrated corrosion inhibitor. Developed especially for use with non-absorbent steel formwork in the precast concrete segment, it is suitable for both unheated and heated moulding applications up to + 70°C. This read-to-use, low-viscosity agent ensures outstanding separation to leave high-quality, smooth concrete surfaces. Ortolan Extra 772 KS is also kind to operatives and the environment, offering easy sprayability, minimal odour and rapid biodegradability.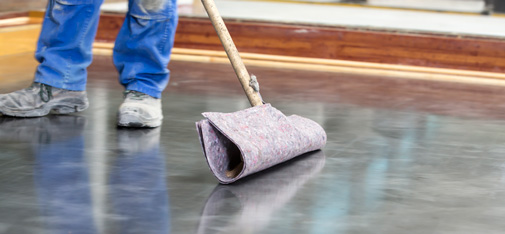 When aiming for component surfaces that are as free of defects as possible, precast factories are still putting their faith in solvent-based concrete release agents. Although these products usually deliver the required results, they also have unwanted side effects. It is mandatory to label them as hazardous in accordance with dangerous goods legislation, they are pungently odorous and they constitute a burden both on the environment and on the workers having to handle them. With such poor environmental compatibility and lacking occupational hygiene, they are no longer state-of-the-art.
Excellent concrete surfaces plus environmental friendliness and occupational safety
With Ortolan Extra 772 KS, on the other hand, precast manufacturers not only get excellent concrete surfaces, they can also count on effective protection for their people, their formwork and the environment. As an aqueous, mineral oil-based and solvent-free concrete release emulsion – MC's latest generation in this line – Ortolan Extra 772 KS has little odour and is rapidly biodegradable. It meets relevant test criteria according to OECD 301F. Its water hazard class corresponds to Germany's WGK 1 (lowest grade). And the corrosion inhibitor incorporated within Ortolan Extra 772 KS prevents rusting. The highly effective base oils protect the formwork and, with regular use, will extend mould service lifetimes.
The special composition of this concrete release emulsion also ensures that, once applied by spraying, it forms a self-levelling oil film to fully cover the metal surface. When the water components have evaporated, the formwork surface is left with a very thin yet highly effective and water-resistant separating film that yields a bright, smooth and porosity-free concrete finish with minimal concrete residue left on the formwork. Yet the release agent does not adversely affect the adhesion of subsequent coatings on the concrete, such as plasters or paints. As an application tool, MC-Bauchemie recommends the special MC sprayer MC-Spezialspitze for a quick, easy and reliable film coating.