MC-Bauchemie has developed Powerscreed RS, a new rapid screed that combines long processing times with very fast strength development.
New rapid screed Powerscreed RS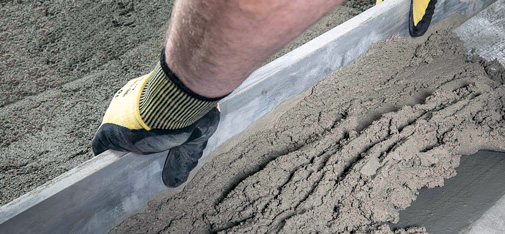 The new rapid screed from MC merely needs the make-up water to be ready for use. It can be prepared and applied with commercially available screed mixers or screed mixer/feed pumps. Powerscreed RS is installed earth-moist and offers a long processing time of two to three hours. The low-shrinkage screed becomes accessible to foot traffic after just four to six hours, developing a compressive strength of >20 N/mm² and a residual moisture of <2 % after 24 hours, by which time it is ready for tiling. After a further 24 hours, the residual moisture content falls to below 1.8%, so that parquet floors can also be laid.* Graded at CT-C35-F5 according to EN 13813, the screed also actually exhibits higher compressive and flexural strength values than standard screeds.
Powerscreed RS is ideal for jobs requiring quickly coverable screeds and for repairs of small floor areas. It can be installed on damp-proof course/ waterproofing/separating membrane, in composites and on insulation and is suitable for heated screeds, wet rooms and both internal and external applications.

* Values indicated relate to an air temperature of 23 °C and a relative humidity of 50 %.