MC-DUR 111 eco is a new epoxy resin sealer from MC-Bauchemie that can be used indoors. The sealer has been tested according to the AgBB scheme 2018, marked with the GISCODE RE05 and, in contrast to standard epoxy resins, does not sensitize the skin. It is resistant to mechanical and chemical stress and also adheres to slightly damp surfaces.
New sealer MC-DUR 111 eco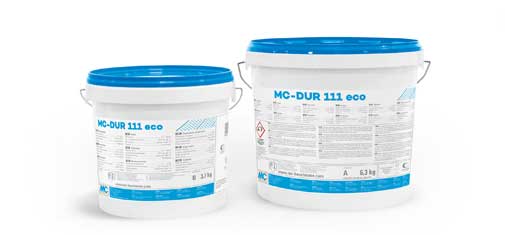 Resistant and visually appealing sealant
The water-based, two-component epoxy resin dispersion has been developed for use in industry. It is suitable for sealing mineral substrates that are exposed to light to medium mechanical loads. The sealer is also resistant to dilute acids and alkalis as well as a variety of organic chemicals. It is available in various colours so that users can also use it to create visually appealing industrial floor designs.


MC-DUR 111 eco is suitable for indoor use without restrictions. This has been confirmed by testing and evaluation according to the AgBB scheme 2018 by an independent testing institute. In addition, MC-DUR 111 eco has been classified with fire class Bfl-S1 as flame-retardant and without smoke development. A slip-resistant build-up of class R12 can be achieved by simply mixing with glass beads; without any additives, the sealing with MC-DUR 111 eco already exhibits slip-resistance class R9. Furthermore, MC-DUR 111 eco is marked with the GISCODE RE05. This means that neither component needs to be labelled as a substance with sensitising ingredients (H317).
Easy application with the roller
The new epoxy resin sealer adheres even to slightly damp, mineral substrates, whereby no wetness should be visible. After priming the substrate and waiting for 12 to 48 hours, MC-DUR 111 eco is rolled on crosswise with a short pile roller without streaks and lugs. To achieve an optimal colouring, two working cycles are necessary. The waiting time between the two coats is at least 12 to a maximum of 48 hours. For proper drying, the substrate and air temperature should have at least 10 °C and a relative humidity of max. 85 %.