MC-Bauchemie has launched MC-Proof 600 Xtra, a new crack-bridging 1C waterproofing product for building components in contact with the ground. It can be sprayed as well as poured, spread and trowelled, serves a wide range of applications and offers some unique properties.
New waterproofing product MC-Proof 600 Xtra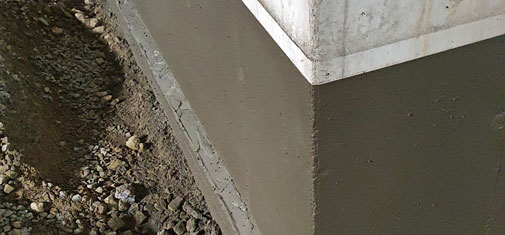 Suitable for coating non-accessible areas, the new, single-component all-rounder from MC-Bauchemie for the waterproofing sector meets all the requirements of OS 5b surface protection systems. With excellent crack-bridging properties, even at temperatures as low as -20 °C, good resistance to frost and de-icing salts, and high UV resistance, MC-Proof 600 Xtra is also suitable for waterproofing concrete components with cracks close to the surface in exposed splash areas impacted by de-icing salt spray.
The range of applications covered is therefore extensive: MC-Proof 600 Xtra can be used on new-build foundations and columns, in prefabricated industrial shed and hall construction and for waterproofing tanks and basins in accordance with DIN 18535 for water impact classes W1-B and W2-B. It also meets the requirements of Germany's DBV code of practice "Multi-storey and underground car parks" for the protection and waterproofing of foundations and pillars in paved parking facilities. This widely applicable product from MC-Bauchemie likewise offers many advantages to the on-site applicator and contractor: Since there is no need to change materials for different waterproofing jobs, firms save time and money on transportation, travel, storage and disposal.
Characterised by its excellent workability, MC-Proof 600 Xtra also serves as a carbonation inhibitor, yet is open to water vapour diffusion. Tested and approved as a flexible mineral waterproofing slurry in accordance with German code PG-MDS/FPD, the product merely needs to be mixed with water – and it can be applied at temperatures between 5 and 30 °C. It can even be used on damp substrates and offers a very good drying time of one to two days, depending on the ambient conditions. MC-Proof 600 Xtra is compatible with the products of the MC-Color Flex line and can thus be overpainted with these pigmented, crack-bridging coatings for further enhanced protection of weather-exposed exterior concrete surfaces.
Your contact:
Saki M. Moysidis, Head of PR & Communication