Nicolaus Müller new Managing Director
After spending several years with MC-Bauchemie in Brazil, Nicolaus Müller (31), son of Dr.-Ing. Claus-M. Müller, Managing Partner of MC-Bauchemie Müller GmbH & Co.KG, has returned to Germany to take up the post of Managing Director of MC-Bauchemie Müller GmbH & Co. KG, Bottrop, Germany. Following in the footsteps of Heinrich-W. Müller who founded the company in 1961, Nicolaus Müller represents the third generation of the family to take on executive management duties at this world-leading manufacturer of building chemical products and technologies.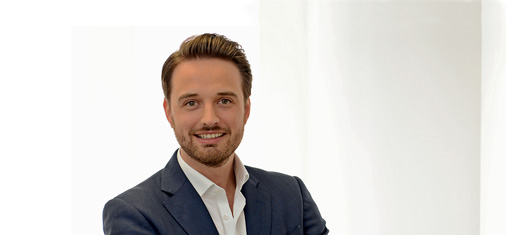 Nicolaus Müller will assume global management responsibility for the target markets "Concrete" and "Building Distribution" (trade arm) together with the corporate divisions Marketing, Public Relations and Human Resources. He will also oversee some of the interna-tional territories in which the MC Group is active. The company's executive management is thus now in the hands of a triumvirate comprising Dr.-Ing. Claus-M. Müller, Dr. Ekkehard zur Mühlen and Nicolaus Müller.

After completing his Master's degree in Finance & Accounting at the University of St. Gallen (Switzerland) in 2010, Nicolaus Müller began his professional career with MC-Building Chemicals in Ireland, a company of the MC Group. From here, he became acquainted with a number of further MC country companies. As a Product Manager with MC Brazil, he built up the national company's Tile Adhesives and Waterproofing business. Then, in 2015, he became Sales Manager there for the "Building Distribution" arm, responsible for supplying the wholesale and retail trade with high-quality building products for craftsmen and DIY consumers. In the same year, MC Brazil acquired the tile adhesive manufacturer Argatex which, under the management of Nicolaus Müller, was successfully integrated into the MC Group. Together with Jaques Pinto, Regional Manager South America, Nicolaus Müller drove expansion into further countries of Latin America. In 2015, MC entered the Chilean market with acquisition of the company Bautek. Piloted by Nicolaus Müller, a new branding and positioning concept for MC was also developed and then introduced across the Group at the beginning of 2016.
"I am delighted that, after several years of successful involvement in our companies in Ireland and Brazil, my son has now joined the executive management," says Dr. Claus-M. Müller, Managing Partner of MC-Bauchemie. "With his knowledge of business administration, his sales and distribution expertise and his understanding of the particular features of our business, he is well placed to successfully drive MC's long-term growth strategy."
Looking ahead, Nicolaus Müller says: "After a number of interesting and highly instructive years abroad, I have now returned to Germany full of energy and ready to begin my new duties. I intend to do everything possible in order to enable the strategic development of our group of companies and make our businesses fit for the future."