After 30 years of use, the basins of the Duisburg-Rheinhausen sewage treatment plant have been undergoing repairs with MC products from the MC-RIM PROTECT family.
Successful rehabilitation of sewage treatment plant Rheinhausen
After 30 years of use, the basins of the Duisburg-Rheinhausen sewage treatment plant have, since April 2021, been undergoing repairs with MC products. The first phase of the project, scheduled to last for several years, was completed in December 2021. The success of this refurb with products from the MC-RIM PROTECT family is also due in no small way to MC's 25 years-plus of experience gained in the use of special-purpose systems for the repair of wastewater structures and facilities.
Name

Successful rehabilitation of sewage treatment plant Rheinhausen

Country

Germany, 2022

Fields of Expertise

Categories
Log port Rheinhausen (logistics port) sewage treatment plant, which began operation in 1959, was originally planned as a purely mechanical facility. Today, after numerous technical and area expansions, it is the second largest of the seven municipal sewage treatment plants operated by the utility company Links Niederrheinische Entwässerungs-Genossenschaft (LINEG) based in nearby Kamp-Lintfort. Originally designed for an inhabitant equivalent (IE) of 47,000, it has since been expanded to 220,000 IE.
Multi-phase rehabilitation concept
Due to the heavy loads on the WWTT at Logport Rheinhausen, LINEG commissioned marschmann gruppe GmbH, based in Moers, to design a step-by-step refurbishment campaign for the basins. The contract included the renovation of 4,000 sqm of wall area in total plus 2,000 sqm of floor area in each basin. Each phase had to be carried out in strict compliance with the specified schedule in order to minimise the restrictions caused by the refurbishment and ensure ongoing operation of the facility. Between April 2021 and December 2021, first the low-load activation basin and, with basins 3 and 4, an initial contingent of the secondary sedimentation complex were duly repaired using special refurbishment products from MC-Bauchemie - products with a decades-long track record in extending concrete lifetimes and ensuring the permanent protection of heavy-duty components in wastewater structures. MC employees also provided their support to both LINEG and marschmann gruppe throughout the project, ensuring the various operations were executed to optimum effect and performing a surveillance service as part of the quality assurance regime.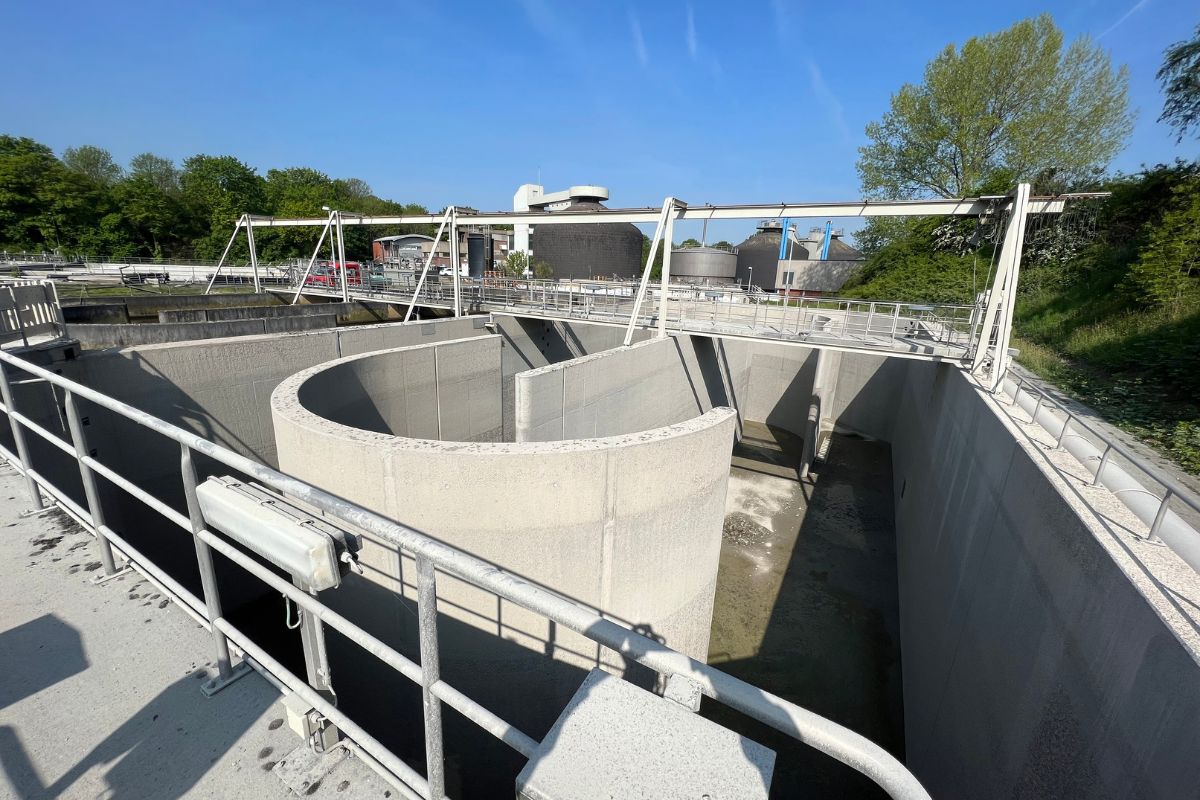 Reprofiling with Nafufill
For the repair of the basin walls, MC's experts recommended switching to a silo-supplied reprofiling and levelling mortar using the dry-spray method. The decision was made in favour of single-component, highly sulphate-resistant SPCC concrete replacement Nafufill GTS-HS. Also used for both reprofiling and increasing the concrete cover was Nafufill KM 250 HS, a silo-supplied fibre-reinforced, chloride-resistant and equally highly sulphate-resistant PCC concrete replacement that is particularly suitable for use in conjunction with concrete components in contact with groundwater and soil.
Optimum protection with MC-RIM PROTECT
In the phase that followed, the MC-RIM PROTECT product family, thoroughly track-proven in wastewater facilities was used to provide maximum protection of the reprofiled surfaces. The fibre-reinforced, highly sulphate-resistant coatings MC-RIM PROTECT and MC-RIM PROTECT-H formulated for use on horizontal surfaces have been specially developed for applications in wastewater structures, serving to protect concrete, reinforced concrete and prestressed concrete components in equal measure. The products ensure chemical resistance in the range of pH 14 to pH 3.35, offer very high chloride impermeability and exhibit high mechanical resistance. They are also resistant to temperature, frost and de-icing salts. Both these products of the MC-RIM PROTECT system are therefore particularly effective in stormwater overflow basins, primary and secondary clarification basins, aeration basins, intake structures and digestion towers.
Since the successful, on-schedule completion of the first part of the refurb campaign in December 2021, the low-load activation facility and secondary sedimentation tank 1 with a total capacity of 5,800 sqm have been rehabilitated at the Duisburg-Rheinhausen sewage treatment plant. Final completion is planned for October 2022.