The new issue of our customer magazine MC aktiv has been published. The Main Feature: our new product family of injections MC-Injekt PowerSeal®. In addition, we again offer an interesting and inspiring mix of innovations, projects and internal news from the world of MC-Bauchemie.
MC aktiv 1/23 fresh on the table
In this year's first issue of our customer magazine MC aktiv, we focus on the main topic of our new product family for injections MC-Injekt PowerSeal®. It includes 1k injection products that quickly and effectively help to stop the water and provide a permanent seal in extreme cases of water ingress in concrete components in contact with the ground, construction pits or tunnels. In addition, our MC aktiv again offers an interesting and inspiring mix of innovations, projects and internal news around and from the world of MC-Bauchemie.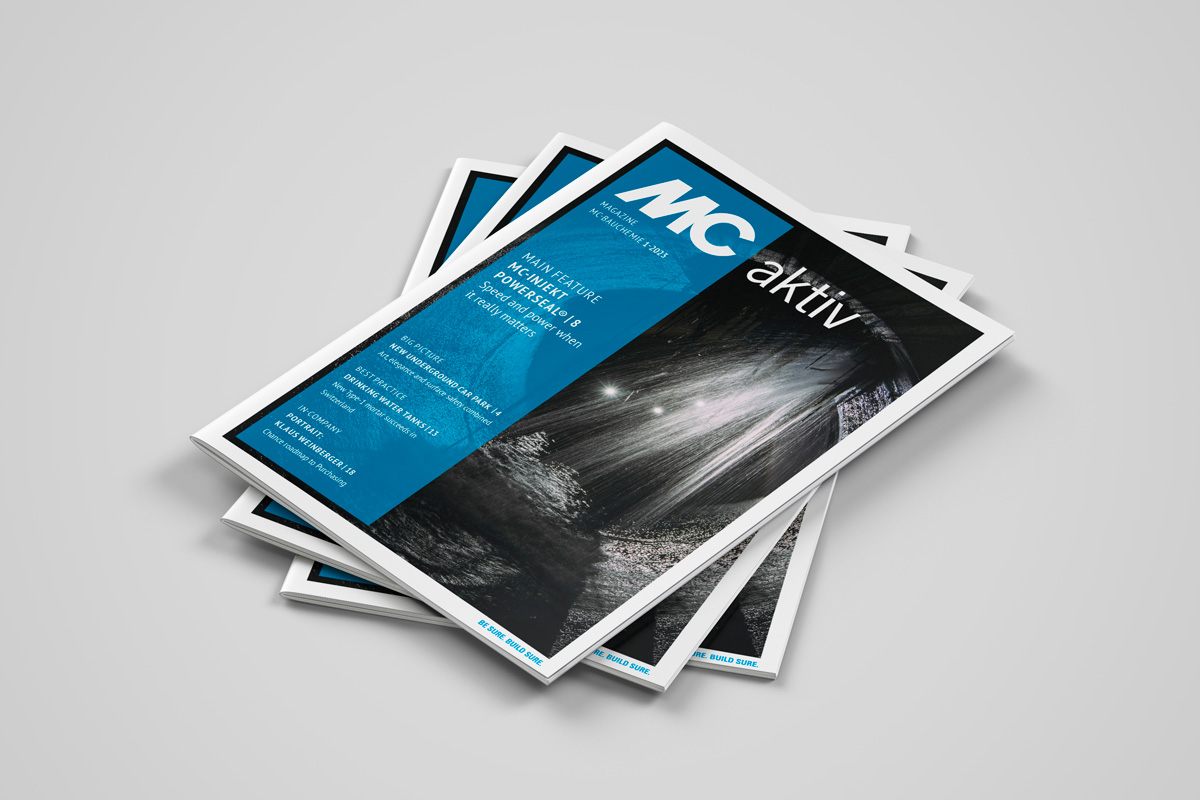 MAIN FEATURE: Fast expansion for a permanent seal with MC-Injekt PowerSeal®
Any sudden water ingress in concrete components in contact with the ground or in construction pits, tunnels or rock masses requires rapid remedial action. Otherwise there is a risk of permanent impairment or even the collapse of a structure or its foundation subsoil. With MC-Injekt PowerSeal®, MC has launched a new family of single-component injection products that can be used quickly and effectively in such cases to ensure fast, permanent sealing.
BIG PICTURE: New underground car park – Art, elegance and surface safety combined
In the centre of Ingolstadt, an extremely resistant and quickly applicable OS 8 car park coating from MC was used for an underground car park. When it came to the interior design of the underground car park, the owner Werner Dimperl gave free rein to his imaginative ideas. The walls are artistically designed with depictions of comic superheroes, the pillars are kept in a powerful coral red and gold-coloured chips were worked into the car park coating. >> Click here to read the project report ...
INNOVATIONS & INSPIRATIONS by MC
As usual, we also present new products in our current MC aktiv. These include the new ultra-high-strength Emcekrete WP 108 grouting mortar, the new accelerator for faster curing of MC-DUR PowerCoat industrial floors MC-DUR PowerCoat Cat as well as the biodegradable decoater Konudur Remover 2.1.
In our INSPIRATION, we show you how versatile the building material concrete is and that many ideas can be realised with it: from concrete furniture to wall decorations, lamps, candlesticks and bowls to jewellery.
BEST PRACTICE: Projects, projects, projects
In our BEST PRACTICE, we once again offer you a nice selection of interesting and current projects in which our products have made an important contribution to the success of the repair and construction projects. These include the rehabilitation of drinking water tanks in Switzerland and Spain, the car park and office refurbishment in the Startup Hub Lisboa in Portugal, the construction of the Nui Vung tunnel in Vietnam, the construction of a concrete bypass road in Romania and concrete protection in three major projects in India.
SUSTAINABILITY: BotaGreen®
In this MC aktiv, we present the new green brand BotaGreen® of our sister company Botament GmbH, which was launched in 2022 and expanded in 2023 with a whole range of new products. BotaGreen® combines innovative building materials that are particularly low-emission and environmentally friendly.
As usual, we round off our issue with internal topics and personalia, whereby we would like to point out the portrait of our "MC veteran" Klaus Weinberger, who has already been working at MC for 34 years and has been in charge of purchasing for many years.
Have we aroused your interest?
Then, take a look at our current issue:

You want to subcribe for it?